---
I believe that much of my success in working in this field is down to my ability to read non-verbal cues, my flexibility and having a knack of putting people at their ease so that they feel comfortable enough to overcome anxiety, inner negative voices, very low mood and lack of concentration and join in my creative session.

---
My first work in the field of mental health was as a freelance artist devising and presenting a summer project for young people in Mental Health wards at Birmingham Children's Hospital in 2008. This then led to future projects both at the hospital and also at the CAMHS unit in Birmingham.
http://allsensesart.blogspot.com/2014/01/fun-and-rewarding-creative-sessions-for.html
These young people included people who were at risk of self-harming and others who were working to overcome eating disorders including anorexia.
· 2008 All About Me: Felted pictures and Footballer glove puppets - work exhibited as part of ArtsFest 2008
· 2009 Summer Project over four half-days: Felted flowers, jewellery and wall-hangings - work exhibited as part of ArtsFest 2009
· 2010 Ward 7 Wall-Hangings - Designs decided by the participants that took part on the day. Hello Kitty and Muppet wall-hangings completed.
· 2012 Autumn project: cushions, flowers and Christmas stockings.
Fabulous footballer glovepuppets. Next to have a table-top game of football... Mental health staff v. corageous Young People! Birmingham Children's Hospital
---
Kirsty has been described as having infectious enthusiasm and using this she manages to draw-in, even the most reticent of people, to her creative sessions with the minimum of stress and anxiety.

---
Other Mental Health Art work has been at:
· Adult Day Care Centres
· ReThink Leek
http://allsensesart.blogspot.com/2014/02/mental-health-improved-by-wonderful.html
· Penn Hospital, Wolverhampton
http://allsensesart.blogspot.com/2011/11/therapeutic-powers-of-felting-patients.html
· Working with Young People with SEMH problems (Social Emotional and Mental Health problems) in Pupil Referral Units
· Post Traumatic work (Recent amputees Wolverhampton and work with Children in Oncology Wards at Sheffield Children's Hospital 2019)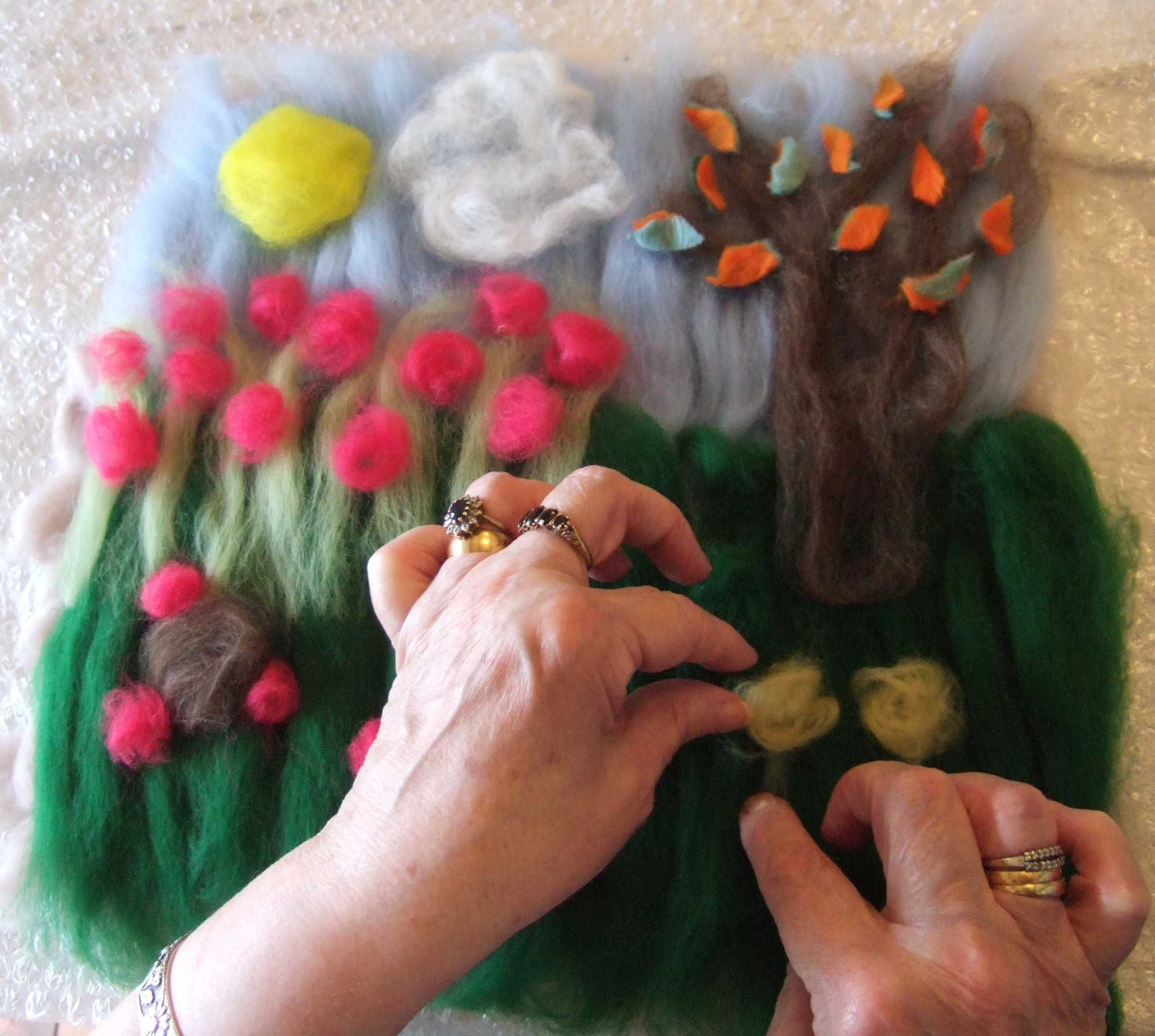 ---
Ensuring that everyone feels at ease; making sure that they have enough attention but at the same time not so much that they feel too 'under the spotlight' is part of the recipe for success when working with vulnerable people.
---